BUTTONS: slut-positive slogans for a wide range of tastes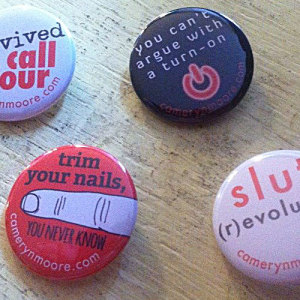 Get some Cameryn Moore–style badges (buttons, for us North American types) and show folks some in-your-face sexiness! Four currently available:
you can't argue with a turn-on
trim your nails, you never know
slut (r)evolution (it's a show AND a kick-ass slogan)
I survived Call Four (for people who have seen Phone Whore!)
More badges on their way!
Available only in sets of four. Specify which slogan, or ask for the set!