Honeymoons. Birthdays. Anniversaries. Shacking up. Hell, just because...
SO MANY OCCASIONS TO GIVE THE GIFT OF SMUT!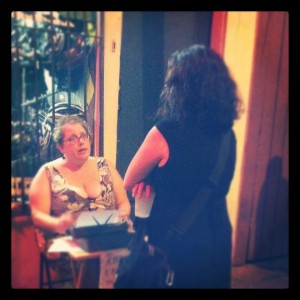 A typewriter, ten minutes, and a dirty, dirty mind... that's all Cameryn Moore needs to create quality erotica for discerning consumers and drunk people around the world, with her one-of-a-kind Sidewalk Smut stand ("Abrupt Erotica, Smut While U Wait"). Bang It Out volumes contain photo reproductions of Cameryn's favorite pieces each year—typos and all—along with anecdotes and color commentary, to meet the people and understand the process of creating pornography for strangers on the fly.
Bang It Out, volume 1: Cameryn's favorites from 2011! Contains 25 pieces, plus one night on Frenchmen Street in New Orleans!
Bang It Out, volume 2: Contains 30 pieces, plus bonus microsmut pages, more stories ("Thanks for the typing lessons, Mom"), and a table of contents, WHOOOOOAAAA.
Bang It Out, volume 3: Thirty more glorious pieces of smut, with more microsmut and some musings on crowd psychology, as seen from the gutter. It's a bit rank down here, but the perspective is amazing.
Bang It Out, volume 4: My favorites from the fourth year of Sidewalk Smut, with more smut from patrons in the UK, and also some good Smut Stand reports. Still filthy, still fantastic!
Do you want any of your books autographed? Want your own custom, short-form, typewritten erotica? I also offer my smut on three- and six-month subscription plans. Send me an email at littleblackbookproductions (at) gmail.com and let's talk!
Find me in action!
I post about my Sidewalk Smut plans on Facebook, and update my planned appearances over at The Busking Project.
Smut Samples